Bowtech Carbon Rose Review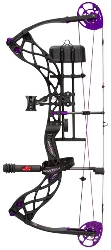 Where to buy


from $420
auctions from $51
Compare Prices

Editors' review
The 2014 Bowtech Carbon Rose is a great women's bow at any level. The light weight and balanced feel is amazing. Nearly any teen to adult woman could fit into this bow. It also has awesome speed. This bow is everything a woman could ask for to hunt nearly any animal at any of its sizes or settings. Bowtech is a top notch company that is known for producing solid products with impressive velocities. The quality is hard to beat. It feels light and comfortable to shoot especially if you are hunting. The Carbon Rose is for a fairly serious female hunter that also likes to spend time shooting.
Finish
The Carbon Rose is only available in the colors of Black Ops (black), and Mossy Oak Infinity. Both colors have purple cams and accents that give it the touch for female archers. The finish seems tough in general and on the carbon riser. There have not been many reports of easy chipping or pealing as of yet. It is flat in texture.
Riser/Limbs
The length from axel to axel is only 30" on this compact bow. This makes it ideal for hunting and trying to get into some tighter spaces. It is also easier to handle for many women. It is feather light at only 3.2lbs. It is most likely the lightest "women's" bow on the market. This riser has a very modern look that is not matched, even slightly, by any other bow manufacturer. Bowtech's new carbon line of bows have a look of their own. The string stop comes standard and is built in the bottom half of the riser along with a bushing for a stabilizer on the outside of it.
The one piece parallel limbs are solid and strong. Together with the riser there is a 6.75" brace height on this bow. The limbs are connected to the riser by pivoting limb pockets. It has a smooth draw especially for a dual cam bow with speed. There is hardly any recoil and it seems to be pretty forgiving.
Grip
The grip on the Carbon Rose is mostly composed of the carbon riser. It has plastic side plates that have a carbon fiber pattern printed on them with "Bowtech" on it as well. It has a good feel and doesn't seem to produce any torque. It seems somewhat square, but still nice and steady in the hand. The carbon is nice and warm to hold on to compared to metal risers when the weather is cold especially.
String Suppressers
As standard with many bows now a string stop comes standard. It also has one string dampener on the cable. Everything seems to come together well to produce a nice quiet shot with this bow.
Eccentric System
The Carbon Rose utilizes Bowtech's Binary Cam System. This dual cam system produces speed while staying in tune. It also has rotating modules. Without a bow press any owner can rotate these modules to adjust the draw length from 22.5" to 27". This range of draw lengths should fit a huge percentage of full or nearly full females. It is adjustable in .5" increments. It has 80% let off and has a great feeling when at full draw. The ease of adjustment is a very positive attribute to this bow with as many times that it may need adjusted.
This bow is available in 40lb., 50lb., and 60lb. max draw weights. This again can fit almost any grown female with the minimum weights being about 10lbs. less than the max. weights. The IBO speed is 302 fps which would be at its' 60lb. max draw and 27" max draw length. That calculates to an amazing 352 fps IBO with the standard calculations.
Draw Cycle/Shoot Ability
The Carbon Rose has a nice draw cycle. It is smooth with not much of a hump. At full draw if feels like there is very little weight to hold. Almost like more than 80%. There is hardly any recoil at the shot. The valley is very generous with plenty of room to play at the back of the draw. Shooters are able to creep forward without the string wanting to fling their arm back forward. The back wall is nice and firm and partially because of an infinite draw stop that is also adjusted along with the modules for the draw length. A stabilizer would be great for this bow as they do for most. It seems that they always help with steadiness and vibration especially with real light bows. It has a basic slide type cable guard that moves along a carbon rod. It does its' job well with no problems foreseen.
**Silencing Package This bow has a pleasantly quiet shot. Some of the silencing is contributed to by the string stop, but there are other silencing components as well. It has a string dampener on the cable. There is little vibration, but a stabilizer would change that along with reducing any noise that there is.
Comparisons
Bow

Bowtech Carbon Rose

Bowtech Carbon Overdrive

Version

2018

2014

Picture
Brace Height
7 "
6.5 "
AtA Length
30 "
31.5 "
Draw Length
22.5 " - 27 "
25 " - 30 "
Draw Weight
30 lbs - 60 lbs
40 lbs - 70 lbs
IBO Speed
302 fps
342 fps
Weight
3.2 lbs
3.3 lbs
Let-Off
80%
80%
Where to buy


Best prices online

compare more bows
The Bowtech Carbon Rose is the women's version of the
Bowtech Carbon Overdrive
in Bowtech's line up. They make a perfect pair. The Rose is 1.5" shorter in length and weighs .1 lbs less. The brace heights are nearly the same with the Overdrive being only .25" longer. They both have awesome speed for hunting bows and the Rose is obviously available in lighter draw weights. The Bowtech Carbon Overdrive has more color options and a couple little things that are small upgrades. It also utilizes a Binary Cam system with rotating modules for draw length adjustment. The draw is a little more stiff on the Overdrive when compared to the Rose, but still smooth with a solid back wall. These two bows great male/female versions of each other.
Perfect Usage
This is a hunting bow for women that could also be used for some recreational 3D shooting. It has plenty of adjustability and comes in enough draw weight options to fit almost any late teen to adult woman. It probably wouldn't make the perfect first bow for most, but someone with some experience and has already discovered that archery is for them. The Carbon Rose is also ideal for hunts involving a lot of walking or stalking due to it being so extremely light in weight.
Value
The Carbon Rose is a decent value for a women's top of the line bow. When compared to some of the other top of the line women's bows on the market it is right in line if not a better value. For the right person that is serious about hunting and shooting their bow this bow will be more than worth it to them.
Summary
From some experience to a long time archery veteran this bow is ideal for the female hunter. It is the lightest women's bow available with its' forged carbon composite riser and it is all around solid in every category. This bow is designed for women shooters who want more than just a youth bow with some pink or purple accents. The technology put into it is up at the top in the archery world. The lady friendly architecture make it light, smooth drawing, and compact with great speed. The quality is second to none. It has a MSRP of $699 which may seem high to some, but it isn't when looking at a bow in this category of quality. With all the attributes that come with this bow it is hard to beat for the serious hunter.
Bowtech Carbon Rose Review