PSE Dream Season EVO Compound Bow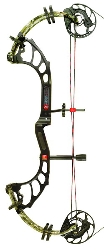 PSE Dream Season EVO Review

1 editor review + 10 user reviews

Editor review:

The PSE Dreamseason EVO is a great addition to the already successful X Force line. A bow this smooth is typically much slower; because of this shooters are equipped with a faster bow with more kinetic energy than before without a more extreme draw or added draw weight. With several technology upgrades and the convenience and ease of the adjustable cam, this bow promises to be PSE's flagship bow for 2011. The EVO is not the most inexpensive bow, but many feel the technology upgrades are worth the extra money. The EVO has a very positive following and just may be what PSE is calling, "The Ultimate Hunting Bow." Overall, the EVO would be a great bow for those looking for a fast, balanced, smooth drawing hunting bow that works well in the tree stand or ground blind with the ability to shoot 3d on the weekends...

read full review User reviews:

A speed bow that is actually as smooth as advertised. Going...

by Hank Foster from Kentucky

FAST BOW, ACCURATE AND HIGHLY RELIABLE

by George Stone from Rochester NY

PSE Dream Season EVO Specifications

3 versions

Manufactured:
2011 - 2013

(3 versions, specs not changed)

Latest version:

2013 PSE X-Force EVO Max

| | |
| --- | --- |
| Brace Height | 6 " |
| Axle to Axle Length | 32.25 " |
| Draw Length | 25 " - 30 " |
| Draw Weight | 40 lbs - 70 lbs |
| IBO Speed | 337 fps - 345 fps |
| Weight | 4.2 lbs |
| Let-Off | 75% |

+ 2 more versions

Click the below button to get full specs for all PSE Dream Season EVO versions.