Mathews Hyperlite Compound Bow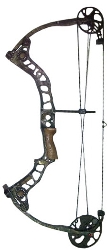 Mathews Hyperlite Review

1 editor review + 1 user review

Editor review:

All in all, the Hyperlite would make a great bow for any hunter who does not insist on having the fastest bow. It is no slouch, coming in at 325 fps, but other bows can shoot around 350 fps, making it seem slow to someone who is used to shooting higher speeds. Young archers and females will benefit from the 3.45 lb weight, without having to shoot a youth bow or one designed for females. It may not be a great recommendation for someone who is still growing, since a new cam will have to be installed to change the draw length. Being reasonably quiet on the shot and having a very short ATA makes it a great choice for a treestand hunter looking for a maneuverable bow. Blind hunters would also be interested in this short ATA bow as it is very easy to move around inside such a small enclosure. If you are a hunter, you should check this bow out as it will allow you to save some money and you may be surprised at how well a light, short ATA bow can shoot...

read full review User reviews:

Small,light,maneuverable. Small package,big punch &...

by Stanley Lund jr. from Middlesex, vermont

Mathews Hyperlite Specifications

3 versions

Manufactured:
2009 - 2011

(3 versions, specs not changed)

Latest version:

2011 Mathews Hyperlite

| | |
| --- | --- |
| Brace Height | 7 " |
| Axle to Axle Length | 29.75 " |
| Draw Length | 23.5 " - 30 " |
| Draw Weight | 40 lbs - 70 lbs |
| IBO Speed | 325 fps |
| Weight | 3.45 lbs |
| Let-Off | 80% |

+ 2 more versions

Click the below button to get full specs for all Mathews Hyperlite versions.