Mathews Switchback XT Review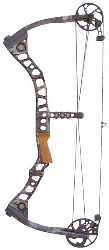 Where to buy


from $55
auctions from $280
Compare Prices

Editors' review
The Mathews Switchback XT is a superior quality bow from the Mathews Switchback series. This bow bridges the gap between the other two models in the series: the less forgiving and faster Mathews Swtichback and the slower but more forgiving Mathews Swtichback LD. The Switchback XT is a very quiet, compact, and forgiving bow. When it comes to shootability this rig is even smoother than the original legendary Switchback yet it still offers a great blend of speed, quietness, and forgiveness. A short 31" axle-to-axle length makes it the ideal bow for both tree stand hunting and blind hunting.
One of the best single cam bows
Many shooters agree the Switchback XT is a superior quality single cam bow. With a silky smooth draw cycle, this bow is considered to have a unique blend of smoothness, quietness, and speed. This bow has received a lot of great feedback and comments from shooters throughout the world.
Eccentric system
Mathew's Straightline XT Cam system is the driving force behind advertised IBO speeds reaching 315 fps. This is a non-modular cam system that requires different cams for individual draw lengths. Draw lengths are available from 25 to 30 inches in half-inch increments.
Draw cycle and shootability
Admittedly, The Switchback XT is one of the smoothest single cam bows out there. This is confirmed by many shooters with different level of expertise. This rig is easy to hold at full draw and is quiet on release. No other Mathews bow has received so much great feedback from shooters.
Silencing system / Quietness and vibration
According to our analysis, the vast majority of archers who shot this bow agree the Switchback XT is very quiet rig with little hand shock. The Switchback XT features a cable guard that is integrated with dampers to reduce noise and vibration. In addition, vibration and noise are further reduced with string suppressors and Harmonic Damping System.
Other recommendations
You may also want to consider the original
Mathews Switchback
which is faster yet a little bit less forgiving. On the other hand if you have a longer draw length (30"+) the
Mathews Switchback LD
would be a better choice.
Bow

Mathews Switchback XT

Mathews Switchback

Mathews Switchback LD

Version

2008

2007

2009

Picture
Brace Height
7.5 "
7 "
9 "
AtA Length
31 "
33 "
33 "
Draw Length
25 " - 30 "
25 " - 30 "
27 " - 32 "
Draw Weight
40 lbs - 70 lbs
40 lbs - 70 lbs
40 lbs - 70 lbs
IBO Speed
315 fps
318 fps
295 fps
Weight
4.25 lbs
4.34 lbs
4.36 lbs
Let-Off
65% or 80%
65% or 80%
80%
Where to buy


Best prices online

Not available now.
Please check later.

compare more bows
Summary
To conclude, the Switchback XT is a compact, fast and incredibly smooth single cam bow. Many shooters agree this rig offers a unique blend of smoothness, quietness, and speed. Ideal for tree-stand and blind hunting, the Switchback XT is a great choice for both beginners and professionals.
Mathews Switchback XT Review