Mathews Z7 Review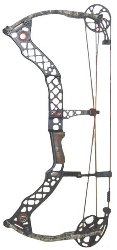 Where to buy


from $399
auctions from $325
Compare Prices

Editors' review
The Mathews Z7 is designed to represent a blend of smoothness and speed. While almost all Mathews single cam bows are extremely smooth to draw, they are not the fastest bows out there (with the exception of the Reezen 6.5 and 7.0 which are quite aggressive to draw). That is why Mathews engineers introduced a bow that sits right in the middle: the Z7 is a smoother drawing bow capable of delivering blazing IBO speeds.
Riser
One of the more eye-catching Z7 components is the new Grid Lock Riser - a well balanced, lightweight, and strong platform delivering great performance. Pierced with multiple isometric cutouts throughout its body, the Grid Lock Riser looks very different compared to conventional risers. This design allowed Mathews engineers to reduce the overall weight of the bow by minimizing the amount of material while not compromising rigidity and integrity.
While this riser is undoubtedly a great and innovative technological solution, it has received a lot of polar comments on how it looks from many archers around the world. Although some shooters dislike the look of the new riser, many others are very impressed with a unique and fresh design and say they admire the new look of the Z7.
Grip
Another design change includes the new Slim Fit Grip that is considered by archers as more comfortable grip with less torque. This one piece walnut grip is thinner in the throat and slimmer through the palm-swell area. That is why so many hunters and archers say it fits better than any other previous Mathews grip. Another interesting feature on the grip is a distinctive red wood inlay clearly marking the centerline of the bow. This red laminated line can be used as an indicator while tuning the bow.
Limbs
The Mathews Z7 is equipped with light and durable SE4 Composite Limb System. Made of proprietary SE 4 Composite material, the SlimLimbs are very thin and strong. According to tests carried out by Mathews' engineers, SE4 Composite SlimLibs last twice as long as many other conventional limbs. Reaching past parallel angles at full draw, the limbs oppose each other at the shot, effectively cancelling out any leftover energy. This design helps to reduce shock, vibration, and noise.
Limbs-to-riser connection
The limbs are complemented with a compact limb-pocket system that is secure and thin. The SphereLock Limb Lock system and Limb Turret connect the limbs to the riser. This connection system is designed with much less material and helps to further reduce the overall bow weight.
Eccentric system
The engine behind this bow is a very efficient, fast, and smooth Z7 Solocam performance system that was specifically built to bridge the gap between smoothness and speed. Capable of generating IBO speeds of up to 332 fps, the Mathews Z7 is not harsh as the Reezen 6 5, and, at the same time, is faster than a smoother
Mathews Switchback
or
Mathews DXT
. The Z7 Solocam offers draw lengths from 25 to 30 inches in half-inch increments. This eccentric system is not modular and requires a new cam for each draw length. To make it easier for shooters to change the cams, Mathews came up with a proprietary Quick Change Axle (QCA) system that simplifies axle removal significantly.
Roller guard
The Mathews Z7 is outfitted with the new Reverse Assist Roller Guard that reduces friction and contributes to a smoother draw cycle. This roller guard is designed to reduce tension on the cables and rollers when the bow is at full draw. This is achieved through a mechanism that works by pushing the cables outward (not by pulling them inward as in the majority of other roller guard designs). While this approach is different, it significantly improves shootability as confirmed by many experts and archers.
Draw cycle
The cam system and the Reverse Assist Roller Guard system work together to deliver a relatively smooth draw cycle with just a slight hump in the end. While many shooters are very happy with its blend of speed and smoothness, others insist the Z7 is difficult to switch to from smoother bows like silky smooth Switchback. Therefore, if you have never shot fast bows before we would recommend shooting the Z7 first to understand whether or not its draw cycle will fit your shooting style. According to multiple tests carried out by archers, the back wall is solid and the bow is easy to hold at full draw.
Quietness and vibration
The Mathews Z7 is equipped with a very effective silencing package including damping, silencing, and suppressing systems. The Harmonic Stabilizer, Harmonic Damper, String Suppressors, a Dead End String Stop, Monkey Tail String, and Cable Silencers are all integrated with the limbs and the riser to deliver very quiet shots. Many archers confirm there is very little jump, hand shock, or vibration upon releasing the arrow. A number of Z7 tests carried out by experts and archers indicate that this bow, when fully loaded, is virtually dead in the hand and has very minimal hand shock.
Summary
To summarize, The Mathews Z7 effectively bridges the gap between speed and smoothness in the single cam bows world. With a forgiving brace height and efficient single cam eccentric system, this bow is a top performer and has a relatively smooth draw cycle (smoother than Mathews Reezen but harsher than Mathews Switchback). Outfitted with an efficient silencing package, the Z7 is very quiet and has minimal jump and vibration. While the draw length can not be adjusted without changing the cam, the Mathews QCA system makes changing the cams much easier. Although the Z7's riser has a unique and fresh design and is very lightweight, some shooters are not happy with the way this bow looks. At 30 inches from axle to axle, this lightweight bow is a great choice for tree stand and blind hunters or those shooters who cover a lot of ground during the day.
Bow

Mathews Z7

Version

2011

Picture
Brace Height
7 "
AtA Length
30 "
Draw Length
24 " - 30 "
Draw Weight
40 lbs - 70 lbs
IBO Speed
333 fps
Weight
4.0 lbs
Let-Off
80%
Where to buy


Best prices online
Mathews Z7 Review