Mathews ZXT Review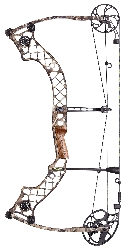 Where to buy


from $435
Compare Prices

Editors' review
The Mathews ZXT is an extremely solid bow that is underrated by the majority. It is a smooth, easy to shoot, hunting bow. Although it isn't the quickest bow in the world its speed is faster than advertised. With the ZXT's smoothness and real short axel to axel length it makes it ideal in hunting situations. This bow should not be over looked by any Mathews fans or anyone in search of a nice forgiving bow. It has that familiar Mathews look that started with the Z7 and now runs through all of their Z series bows. As always the quality can't be beaten.
Finish
The finish is solid and reliable and there has been no issues with flaking or chipping. It should be as enduring and long lasting as Mathews finishes have always been. The ZXT is available in Lost Camo or black. Both of the colors look great on the bow and can always be customized even more with all of the colored accessories that are available from Mathews.
Riser
Mathews Grid Lock pattern is used on this riser as with all of their Z series bows. This has proved to be a solid pattern that started with the Z7 and is a design that is now used on a large portion of Mathews bows. The advanced geometric design is called the Geo Grid Lock. The technology creates a strong, rigid, and lightweight riser. The ZXT is one of the lighter hunting bows in the industry at 4.2 lbs. and it only measures 28" axel to axel.
Grip
The SlimFit Inline Grip is walnut and has a rich look to it. It has a layered line that indicates the centerline of the bow. It creates very little to no torque by being thinner than some of Mathews previous grips. It is still thicker than the majority of grips, but has a good feel. These walnut grips have a nice finished look.
Limbs
The ZXT has SE6 Composite SlimLimbs. With prime materials used to compose these limbs along with all of the Mathews technology they are tough to beat. They are thin, light, and can withstand almost anything. These shorter limbs are flexible and bend beyond parallel. There is virtually no noise or vibration and the limbs play a large role in keeping this bow silent.
Limbs-to-riser connection
The composite limbs on this bow are connected to the riser by the SphereLock Limb Lock system. They taper down at the connection and at the entrance into these limb pockets. This system is strong and reliable. It has been tested on Mathews bows of the past. The limbs are also allowed to pivot to allow consistent pressure on the limbs. The ZXT as a very generous 7.375" brace height.
Eccentric System
The ZXT is built to be smooth, comfortable, and like the Mathews Solocam tradition, forgiving. All of this has been more than accomplished with this bow. It is not a real fast bow with an IBO of only 326 fps although it does seem to be a little faster than this. With draw lengths being cam specific on all of Mathews Solocams it requires a new cam for each draw length ranging from 24" to 30" in .5" increments. It is available in 40, 50, 60, 65, and 70 lb. max draw weights.
Roller Guard
The ZXT has the Reverse Assist Roller Guard which does an amazing job at reducing friction to create an even smoother draw. This system works by the cables being pushed out during the draw instead of being pulled in with more pressure on the wheels. Less pressure means less friction. This small amount of tension plays a large role in the silky draw and the cables are also contained within the roller guard.
Draw Cycle
This bow has an awesome draw cycle that is real comfortable and rolls over to a surprisingly solid back wall. The ZXT uses a cable stop too which helps with the stop at full draw. Its valley is generous and there is a lot of room to play without it jumping back forward. This is another great attribute of a hunting bow. Most hunters don't want to use a bow that they have to worry a lot about jumping back forward on them in the heat of the moment or when they are face to face with that buck of a lifetime.
Quietness and Vibration
With the assistance of string suppressers at each end, harmonic dampeners, The Dead End String Stop Lite, and Monkey Tails this bow is whisper quiet at the shot. Mathews is well known for their quiet bows and the ZXT is no exception with it making minimal noise at the shot. The string is deadened, however, there is a small amount of kick with the shot that a stabilizer would eliminate. Stabilizers are always beneficial even if one is trying to keep their bow as light as possible it is worth the trade off for at least a lighter stabilizer.
Perfect Usage
This bow is ample enough to be used in most aspects of archery. Hunting would be the most fitting application however. Any serious hunter would truly appreciate this bow and how easy it is to get a shot from different angles. 3D shooting would be fun with the ZXT for recreation or some lower classes of competition. It may be lacking for a strictly "competition" bow.
Summary
Regardless of this bow seeming to somewhat be flying under the radar in Mathew's line up it is one of their best hunting bows. It may even be the best in some opinions. With it being so compact and so comfortable to shoot it is tough to beat. The fit and finish of the ZXT is very nice as all Mathews are especially for this bow being considered the economy line of the Z series. It seems faster than advertised and is a must shoot for anyone in the market for a new hunting bow. It can easily be overlooked and is a definite sleeper especially with the new Creed and Chill in the Mathews line up for 2013. With an MSRP of only $799 it is a great value especially when compared to the $999 price tag of the other new Mathews for 2013.
Mathews ZXT Review