Mathews DXT Review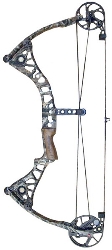 Where to buy


from $341.99
auctions from $250
Compare Prices

Editors' review
Equipped with proven technologies, the DXT is the lightest, shortest, and fastest bow in the 2008 Mathews line. At just 3.75 pounds and measuring 29.75 inches from axle to axle, the DXT is a high-performance bow capable of generating blazing IBO speeds. In addition, this rig is outfitted with ultra-thin limbs, highly efficient cam system, and effective silencing package.
Riser
The lightweight DXT's riser is machined out of aluminum and has numerous cutouts and chamfers throughout its body. By removing unnecessary material from the riser the Mathews design team reduced the overall weight to 3.75 lbs without jeopardizing the integrity and rigidity of the bow. The riser is connected to the limbs through the SphereLock Limb Cup System and limb turrets that cradle the limbs and spread the load. While this limbs-to-riser connection system is sleek and lightweight, it tightly secures limbs to the riser.
Grip
Another design change includes the new InLine laminated walnut grip that is slimmer and has a narrower throat compared to previous Mathews grips. Also, this grip has a distinctive laminated line that clearly indicates bow's centerline and can be used for tuning. According to our observations many archers appreciate this design by saying the grip reduces the likelihood of torque and is more comfortable to hold.
Limbs
Made of proprietary composite material, the new SE4 composite SlimLimbs are much thinner and stronger than traditional limbs. According to Mathews cycling tests they are twice as strong despite being light and thin. This is also confirmed by multiple DXT tests conducted by experts and shooters who say the new slim limbs are very durable and strong. The limbs are connected to the riser through the Limb Turret system and SphereLock Limb Lock system. This sleek and lightweight limbs-to-riser interface complements the overall slim appearance of the DXT bow and helps to further reduce its overall weight. The limbs and riser deliver a very solid, consistent, and high-performance platform for launching arrows at blazing speeds and with minimal vibration.
Eccentric system
Mathews's new Straightline DXT Solo Cam system is the driving force behind reported IBO speeds reaching 322 fps (2008 Mathews DXT only, later modifications are faster, see full
Mathews DXT specs
). This non-modular eccentric system is not adjustable and requires a different cam for each draw length. There is a reason for the lack of flexibility though. With this design the overall shootability of the DXT is better because each cam is specifically tuned to deliver optimal performance (faster speeds and smoother draw cycle) for a particular draw length. Cams are available from 24" to 30" in half-inch increments.
To deliver faster speeds, smoother draw cycle, and lower recoil, the StraightLine Perimeter-Weighted DXT Cam is oversized and has a weight on its perimeter. The weight is an essential component of the whole system and is designed to deliver smooth release and reduce vibration.
Draw cycle
While many experts agree the draw cycle on the DXT is smooth, this is not the smoothest bow out there. To illustrate, many tests indicate the DXT's draw cycle is neither aggressive nor very smooth - it just sits in between. While many archers say the DXT pulls a little bit harder, overall they are very happy with the draw cycle for the speed this rig produces. The let-off is 80%. Also, with a solid back wall this rig is easy to hold at full draw.
Silencing system / Quietness and vibration
The Mathews DXT is equipped with a very effective silencing system. The riser, cable guard, and string suppressors are integrated with harmonic dampers and work together to eliminate unwanted noise and vibration. The harmonic dampers are so effective that Mathews licensed this technology to be used in other industries. The string suppressors are mounted on the limb tips and serve to eliminate string vibration between the cam and the idler wheel. This design results in a quieter and smoother shot upon release.
According to multiple tests and reviews, the DXT is a very quiet bow equipped with effective silencing system. Admittedly, the Mathews design team managed to reduce shock and vibration to minimal levels, making this bow a great shooting machine in the woods. Some experts even say the DXT is quieter than
Mathews Drenalin
that is known for its incredible quietness.
Summary
Bow

Mathews DXT

Version

2010

Picture
Brace Height
7 "
AtA Length
29.75 "
Draw Length
24 " - 30 "
Draw Weight
40 lbs - 70 lbs
IBO Speed
326 fps
Weight
3.75 lbs
Let-Off
80%
Where to buy


Best prices online
To summarize, the DXT is a very compact and lightweight bow capable of generating fast IBO speeds. While it's not the smoothest Mathews bow ever, the DXT is nice to draw and is fast at the same time. Equipped with the new ultra-thin durable limbs and a better grip, this bow delivers great performance in a very lightweight and maneuverable package. The DXT is a high performing rig with minimal hand shock and vibration. While the draw length can not be changed without replacing the cam, the bow is designed this way to deliver optimal performance and shootability characteristics. Ideal for tree-stand and blind hunting, the DXT is a great choice for average shooters who prefer smooth and quiet bows.
Mathews DXT Review