G5 Quest Radical Review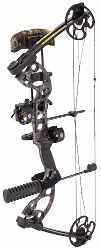 Where to buy


from $250
Compare Prices

Editors' review
G5 Quest has been around for quite a few years, providing a lower-cost substitute for the more elite G5 Prime lineup of compound bows. Using similar processes to produce such compounds, both the performance and the price are marketed to individuals that tend to be towards the beginner end of the spectrum, however that doesn't prevent any hardcore hunter or shooter from enjoying the Radical as much. With a forgiving brace height of over 7", large draw length and weight adjustments, and a pleasant 29.5" axle-to-axle, it has solid specs to appeal for a vast range of shooters. Although very modest on the speed game with an IBO of only 295fps, it makes up for its post-shot arrow velocity by providing a very pleasant draw cycle and shooting experience overall.
Finish
The Radical is available in multiple finishes, from solid colors like black, orange, and green to camo patterns Realtree Xtra, AP, and Realtree AP HD Purple. G5 uses their patented Durafuse finish process of dye sublimation instead of hydrographic dipping to create a more robust and long lasting finish, and the difference, although unnoticeable at the touch, will aid in the bow's longevity in the field. Stock BCY X strings are only available in black, however custom options are everywhere and are an easy way to provide an accent color when the strings need replacement a year or two down the road.
Riser
Forged from 6061 aluminum, the Radical's riser is both beefy enough to handle the stresses of a near parallel-limb design, yet features almost a dozen large cutouts to both save weight and reduce wind impact at full draw. At a bare state, it weighs a mere 3.25 pounds, definitely residing under the 4 pound benchmark of today's modern compounds- this allows for placement of weight away from the riser to customize each shooter's preference.
Limbs
A very nice feature of the Radical, split limbs are featured on the bow to aid with reducing cam lean, aid in vibration cancellation, and reduce stresses on the limbs themselves to limit any issues in the future. The limb pockets are robust in nature, and attach the limbs in a semi-parallel fashion at the upper poundage range to reduce jump at the shot as well as create both a 7.125" brace height and a 29.25" ATA, creating a very adequate and easy to shoot hunting platform. Lastly, the limb bolts can be adjusted to create an impressive 55 pounds of draw weight adjustment from 15-70 pounds.
Grip
Aside, from the fact that it is a bit chunky and difficult to find a comfortable hold, the rubber composite grip has insulating properties for cold weather shooting, a lightweight and thoughtful addition to the value of the compound. Being molded to the riser itself, it is not easy to remove and reinstall in comparison to bolted side plates, however it is a sufficient grip with time and practice.
Eccentric System
The Radical is equipped with a very nicely adjustable dual yoke cam system, which features a 17.5-30" draw length range, 75% letoff, and allen wrench adjustability without the need for a bow press. Although the draw stop is string actuated and the top IBO speed is 295fps, respectively creating a moderately soft back wall and somewhat sluggish arrow speed, it is an impressively designed system, especially for the price of the overall compound.
Draw Cycle/Shootability
Bringing itself to the table with other highly adjustable, multi-age-range compounds of today, the Radical sets itself apart from the pack with its highly tunable, easy to pull and surprisingly smooth cam system. Although changing at every draw length setting, the draw has little dead pull, ramps up near the middle, and both drops down into and holds at the valley with ease. As aforementioned, the somewhat mushy back wall is a bit of a nuisance, as well as has the chance to rob accuracy at longer ranges due to providing a different release point every shot sequence, however with any amount of practice and a solid anchor point this can be easily avoided. The lightweight platform of this bow is very nice for holding at full draw for extended periods of time, especially in younger archers.
Silencing Package
Although minimal, the Radical comes with dampening features, from a rubber string stop to the rubberized grip, and semi parallel limb structure in between. This compound would definitely benefit from the addition of aftermarket silencing accessories like a cable rod dampener, string silencers, and limb dampeners, which can be found for a fraction of the cost and reduce the sound and vibration output of the bow majorly.
Comparison
Bow

G5 Quest Radical

Diamond Infinite Edge

Version

2016

2014

Picture
Brace Height
7.125 "
7 "
AtA Length
29.25 "
31 "
Draw Length
17.5 " - 30 "
13 " - 30 "
Draw Weight
15 lbs - 70 lbs
5 lbs - 70 lbs
IBO Speed
295 fps
310 fps
Weight
3.25 lbs
3.1 lbs
Let-Off
75%
75%
Where to buy


Best prices online

compare more bows
Compared to the popular
Diamond Infinite Edge
, both very adjustable compounds marketed to a similar crowd, there are significant advantages of both. The Diamond is not only 15fps faster and slightly lighter, but has 4.5" of additional draw length and 10 pounds of additional draw weight adjustment. Both models have the same letoff rating and an unnoticeable brace height difference of .125", however the Radical has a more compact axle-to-axle and a smoother draw cycle. Similarly, it has less plastic components, a noticeably better finish, and a slightly easier cam system to work with. For roughly the same MSRP, any prospective archer should shoot both models, as well as other similarly designed compounds before making a choice.
Usage Scenarios
The Radical is marketed to fit both the needs and the budget of a younger, beginner archer. Although this is implied, it definitely does not limit the use to adults or more experienced archers, or even bowfishers looking to carry a nimble, highly adjustable bow to the water. With a lower IBO compared to other models of similar stature, it may not be the best option for hunting at long distances, but at closer ranges it in undoubtedly sufficient to be any archer's treestand companion.
Summary
G5 Quest has proven itself through its design of compounds to archers all around the US for quite a few years, and the Radical is no different. Creating a solidly built 3.25 pound shooting machine with 55 pounds of draw weight adjustment and over a foot of draw length adjustability is no small feat, especially for less than half the price of most modern flagship compounds. Although the IBO speed leaves some room for improvement, and the vibration dampening package from the factory could be implemented better, the Radical is a lot of bow for the money and will last many years under proper care and general maintenance. Overall, a word to any prospective archers doing research on compounds, the one is a definite contender and may be the bow to suit all of your needs.