Martin Moab Review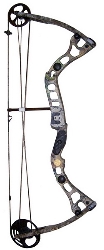 Where to buy


from $325
Compare Prices

Editors' review
The Moab has a reputation for being a very quiet and forgiving rig and that why it was produced in 08 and 09. Having an interchangeable draw length system that you don't need a bow press to adjust makes this a very user friendly application as well. Quick, smooth and forgiving all things that gives you a good reason to give the Moab a second look.
Finish
The finish on the Moab is a quality and durable coating that comes in three finish options. It comes in Next camouflage, hunter black and midnight blue.
Riser
This bow has a riser that is constructed out of machined aluminum and is designed to be rugged and forgiving. Along the length of the riser there are 10 cut outs that decrease the mass weight of the bow, while keeping it strong.
Limb/Limb Pockets
The Moab's limbs are made from high compression three part laminate design. These limbs are designed to be very durable and last for generations to come. The limb pockets are pivoting roto limb cups and they are designed to maintain a secure, perfect alignment to the rotating cup through the stainless steel pins.
Grip
The grip on this rig is the Thermal V grip that is the third generation of the Martin's thermal grips. This grip is made to reduce torque and designed to keep your hand insulated in cold weather.
Eccentric System
The cam system on the Moab is an M-2 Pro single cam and idler wheel system. This system is engineered to have smooth recoil free shot with top performance. This cam boasts a 320 fps IBO rating and an easy 80% let off. The draw weight range is 35-70 pounds and has a 7" inch brace height. The draw length range is 26-31" and can be adjusted without the aid of a bow press with interchangeable modules.
Other components
The Moab is equipped with a CCS cable containment system which is basically Martin's version of the roller guard. Also outfitted on the Moab are vibrations dampening components such as the STS shock terminating suppressor, the V.E.M vibration escape module and a silent arrow shelf.
Shootability
Many archers would agree that the Moab is a very smooth drawing bow with a solid back wall. Also archers have found that it is quiet and nearly vibe free when shot and seem to be very happy with the shootability of this rig.
Moab vs. Firecat TR-1
These two bows are very similar; they both basically share all the same specs. Really the main difference is they have different cams and the brace height 1/4" shorter on the Martin Firecat TR1. Both bows have great shootability and smooth draw.


Usage
This bow would be great for the bow hunter. Smooth, quick and quiet all things that are demanded from a quality hunting bow. But with the shootability of this rig it could be used for 3D or recreational use as well.


Summary
Overall this would make a great rig for the bow hunter or the recreational archer. Super smooth draw, great shootability and good quickness are all things that make the Moab a viable option for a broad range of archers to look at. With things like a wide draw weight and length range it will catch the eye of many archers. To top it all off with a value price point of $499 msrp it is very affordable as well.
Bow

Martin Moab

Martin Firecat TR1

Version

2009

2010 TR1 (Acu-Trak Cam)

Picture
Brace Height
7.375 "
7.125 "
AtA Length
32.5 "
32.5 "
Draw Length
26 " - 31 "
26 " - 31 "
Draw Weight
40 lbs - 70 lbs
40 lbs - 70 lbs
IBO Speed
315 fps - 320 fps
315 fps - 320 fps
Weight
3.5 lbs
3.5 lbs
Let-Off
80% (optional 65%)
80%
Where to buy


Best prices online

Not available now.
Please check later.

compare more bows
Martin Moab Review