Mathews Z9 Compound Bow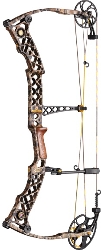 Mathews Z9 Review

1 editor review + 8 user reviews

Editor review:

The Mathews Z9 is a forgiving bow due to its long brace height of 8 3/4" and slightly reflexed riser. With the smooth shooting Z9 Cam, the Z9 will provide shootable speed for those shooting a draw length greater than 30". With an IBO of 312, the Z9 will only appeal to those archers with a draw length of 30" or less if they are looking for a forgiving single cam that is short axle to axle. Retailing at $899.00, the Z9 is not a bow that will sell in high numbers due to the special market it is designed for, however, those archers that fall within that market will find a quiet, smooth shooting single cam bow that is relatively fast, highly accurate, and forgiving...

read full review User reviews:

I love this bow, extremely quiet and super smooth, shoots...

by Sam Ofty from Minnesota

Great Bow! Quite, smooth and accurate!. Long arm hunters...

by Scott Anderton from Memphis, TN

Mathews Z9 Specifications

5 versions

Manufactured:
2011 - 2015

(5 versions, specs changed)

Latest version:

2015 Mathews Z9

| | |
| --- | --- |
| Brace Height | " |
| Axle to Axle Length | " |
| Draw Length | " |
| Draw Weight | lbs |
| IBO Speed | fps |
| Weight | lbs |
| Let-Off | |

+ 4 more versions

Click the below button to get full specs for all Mathews Z9 versions.