PSE Prophecy Review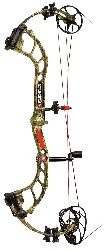 Where to buy


from $349
all auctions
Compare Prices

Editors' review
PSE is known for creating smooth drawing speed bows and the Prophecy is not different. The Prophecy is one of the fastest single cam bows ever produced and is offered with plenty of useful technology at an affordable MSRP of $699. The speed of a dual cam bow with the tenability of a single cam bow is very appealing to many shooters. With a desirable 32-inch axel to axel measurement, the Prophecy holds well on target and lives up to accuracy standards of today's high performance rigs. Shooters interested in speed, but want the simplicity of a single cam bow will not be disappointed in how the Prophecy shoots.
Finish
The Prophecy is available in some really cool looking finish options for hunters and target shooters. PSE always does a great job with the dipping process on their bows. The finish looks great, and there are no longevity issues with peeling or abnormal wear. The Prophecy is available in Mossy Oak Break Up Infinity or a mix of Infinity camo limbs and a black riser. Shooters also have an all black option as well. The Skullworks camo is a black finish showing animal skulls and antlers of different big game species. The pattern is cool looking, and is another popular option available.
Riser
PSE outfits the Prophecy with a planar flex riser. This technology was reserved for their proline series bows in the past, but makes it to this mainline series bow for 2013. The riser has superior strength aimed at reducing sideways torque and front to back torque while the bow is at full draw. Although shooters are not likely to feel a difference; they should notice one in terms of accuracy. The reduced torque makes the rig more repeatable and should improve overall accuracy as well. The bow is not extremely light, weighing in at 4.1 pounds overall, but it does not feel too heavy either. The Prophecy also has the Backstop 2 rear mounting string stop system as well. This string stop system is micro adjustable for length and also rotational for shooters to get the best fit in terms of where the string hits after releasing the arrow. The rubber stop is also color customizable if shooters want it to match the rest of their Vibracheck accessories. Directly in front of this string stop system is the front mounting stabilizer hole. Front mounting stabilizers are a commonly used accessory on bows today, and being mounted directly in front of the string stop system gives the energy a place to go other than the shooters hand.
Grip
The grip featured on the Prophecy is likely to be a love/hate relationship at first. Many shooters have trouble at first with the thin rubber plated side grip. The PSE grip is thinner than most other grips on the market. The good thing is this grip does not allow for improper hand placement. Shooters are forced to have proper hand placement when gripping the Prophecy. Although shooters may have some trouble adjusting to the grip, they will eventually become comfortable with proper form. In fact, most end up preferring this grip after spending some time shooting it. The rubber side plates are available in black or red, but will be shipped with red installed. Since the grip is part of the riser, the grip is cold during the brisk sits on stand. This is the case with most bows, but this grip will more than likely require a gloved hand for the tree stand in the fall.
Limbs
PSE has incorporates past parallel split limbs on the Prophecy mainline series bow. Limb bolts on the Prophecy can be turned out a total of ten turns allowing for roughly ten pounds of adjustment. Maximum weights are available in ten pound increments with maximum weights of 50, 60, and 70 pounds. The limbs feature the Prophecy logo, which looks great with any finish option in the background. They also come with new Vibracheck limb band dampeners. Bows will ship with black bands installed, but there is a variety of color schemes available for shooters wanting to add a personal touch to their bows. The new bands are designed to wrap around each limb separately, which is a new design for the bands. Shooters wanting a band that covers both limbs at the same time can always purchase last year's model bands as well. The new bands do not require a bow press for installation, which makes changing them a much easier process than it has been in the past.
Eccentric System
The AMP cam powers the Prophecy to blazing speeds up to 340 feet per second with 75% letoff. For a single cam, this speed is really great! The cam is made from 7075 aluminum, which improves strength without adding extra weight to the bows mass. The cam also has wide grooves to accommodate the string angles making it tough to derail the strings in any situation. The 2nd generation posi-lock inner cam system allows for five inches of draw length adjustment from 25-30-inches in half inch increments without the need for switching cams or needing to buy draw length modules.
Draw cycle / Shootability
The AMP cam is designed for speed. Those looking at a speed bow in a single cam should understand this will come at a price. In this case, the Prophecy has a little more aggressive draw than other single cam models. With that being said, the Prophecy is not as harsh as one would imagine before shooting. The draw is actually surprisingly smooth from start to finish ending at a solid back wall. The Prophecy is a dream to hold on target feeling much longer than its 32 inch axel to axel measurement. However, the valley is a little short on the Prophecy if the shooter does not properly pull into the wall to execute the shot. Those used to being able to creep while at full draw may be disappointed with the Prophecy in this respect. Creep is never a good thing, and actually hurts accuracy, but many shooters like being able to make slight errors in form without the bow wanting to go. The Prophecy will want to go. After the shot, the Prophecy has almost no sound at all. The hand shock is almost nonexistent as well. Overall, this bow is a wonderful shooter and holds on target much better than expected. For a single cam speed bow, the Prophecy is an outstanding option.
Usage Scenario
The Prophecy is designed with hunting in mind. Like most hunting bows on the market, the Prophecy would perform well on the range, but it is designed to be in the woods. With a 32 inch axel to axel measurement, single cam reliability, and 340 feet per second, shooters get the best of both worlds: blazing speed and single cam tenability. This rig produces enough kinetic energy for any big game animal in the shooters sight picture.
Package Option
Shooters have the option to have the Prophecy equipped with accessories from the factory if desired. Two package options are available, and offer a good value overall. Outfitting a bow is often a preference thing, and allows shooters to further match their shooting style. Although not all shooters will be interested in the package options, it is available. The Ready to Shoot package comes with a D loop, a peep sight, a mongoose quiver, a Qs whisker biscuit, a Aries multipin sight, a stabilizer, and a PSE wrist sling. Shooters needing the whole package have the option for the field read package, which adds a soft case, TruFire release, and four arrows to the ready to shoot package.
Comparisons
These two bows are both appealing for the same reasons. They both produce amazing speeds for single cam bows, while offering a midrange axel-to-axel measurement. The
PSE Bow Madness 3G
is a little longer axel to axel and also comes with a 7-inch brace height versus the 6-inch brace height of the Prophecy. The draws are similar as well so it really comes down to the specifications shooters demand. Both bows offer superior performance and design. Shooters interested in speed and a more compact design will more than likely be drawn to the Prophecy. Shooters wanting the extra inch of brace height along with a longer axel to axel measurement will be impressed with the 3g.
Bow

PSE Prophecy

PSE Bow Madness 3G

Version

2014

2013

Picture
Brace Height
6 "
7 "
AtA Length
32 "
33.125 "
Draw Length
25 " - 30 "
25 " - 30 "
Draw Weight
40 lbs - 70 lbs
40 lbs - 70 lbs
IBO Speed
332 fps - 340 fps
322 fps - 330 fps
Weight
4.1 lbs
4.5 lbs
Let-Off
75%
75%
Where to buy


Best prices online

compare more bows
Summary
A single cam producing 340 feet per second is worth a test shot even if speed is not the most desirable thing. The Prophecy features some great technology for a mainline bow and should appeal to those interested in a new hunting bow for 2013. The ease of adjustability without a press or needing to buy parts makes the bow user friendly and easy to work on for those who like to tweak. The draw is a little more aggressive than other single cams, and it may take some time to get used to the 75% let off as compared with the 80% most bows come with. However, hunters owe it to themselves to give this bow a shot, especially for the $699 price tag.
PSE Prophecy Review